Dr. Courtney Schramm is a veterinarian in Murfreesboro. She is passionate about developing a trustworthy bond with pets and their owners.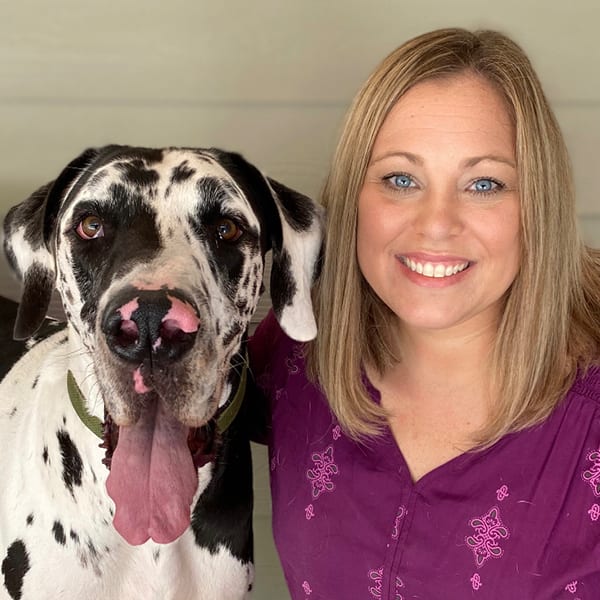 Dr. Courtney Schramm
Dr. Courtney Schramm was born and raised in the Midwest in Dyer, Indiana. Growing up, she would bring home all types of animals that were injured to care for and fix them. She always formed strong bonds with animals and helping them was her way of returning the unconditional love they share with others.
Dr. Schramm attended public schools in Lake County, Indiana and graduated from The Indiana Academy for Science, Mathematics and Humanities in 1998. After high school, she attended Butler University in Indianapolis and graduated with a Bachelor of Science in Biology. She then attended veterinary school in West Lafayette, IN at Purdue University and obtained her Doctor of Veterinary Medicine degree in 2008. After graduation, she moved to Las Vegas, NV and practiced there for 10 years.
She now resides in Rutherford County with her husband and many pets. Her babies are two Great Danes named Oakley and Brody, two Chihuahua mixes named Moose and Kodi, and two cats named Sebastian and Linus. Outside of work, she enjoys watching and playing sports, traveling, and spending time with her family.
Dr. Schramm is fear free certified and makes her patients comfort level a top priority. Professionally, her interests include soft tissue surgery, endocrinology, and dentistry. Her favorite parts of being a veterinarian are developing a trustworthy bond with pets and their owners, problem-solving to figure out what is wrong with them, and getting to be an advocate for her patients to improve their quality of life.